Tattoo event time again in Bali.
BALI TATTOO EXPO is a seriously authentic and awesome thing for foreigners to experience in Indonesia. You've probably never seen so many extension chords connected together (totally safe…) or so many people tattooing in one place before. BUZZ!
22 MAY UPDATE:
EVENT PICS AND VIDEOS COMING SOON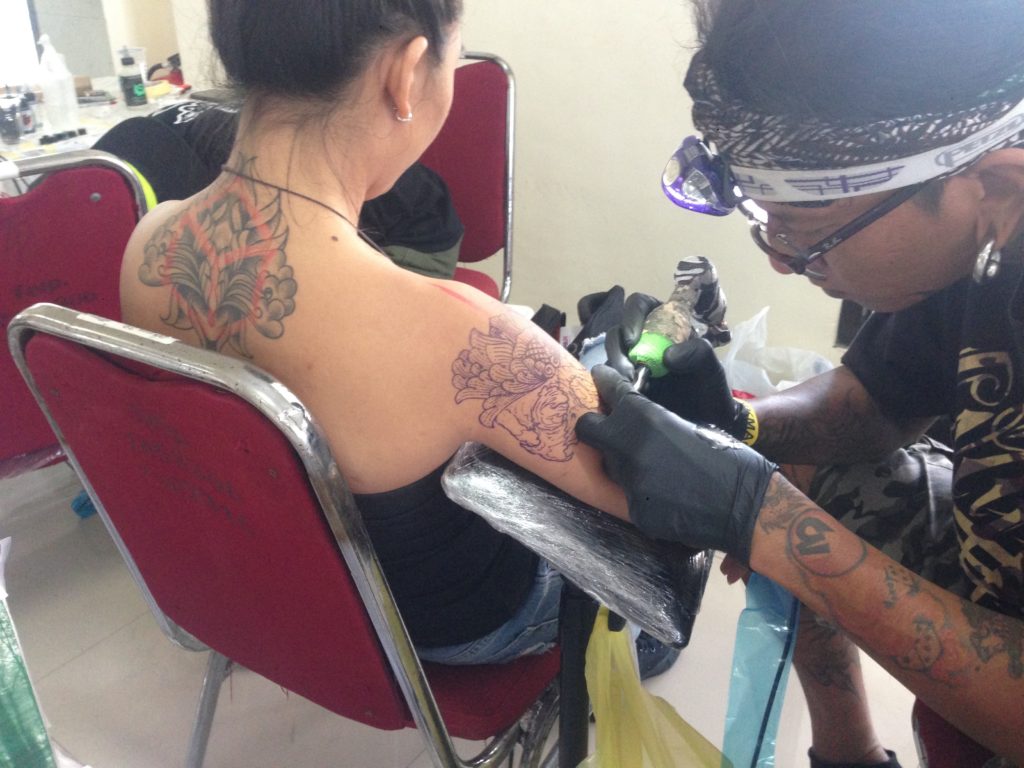 Dimas Praja tattooing at an event.
What goes on at the Bali Tattoo Expo?
Live tattooing and tattoo judging, food and beverages, and live music. This is your once-a-year chance to get a cheap good tattoo (and we NEVER put those words together like that). But for three days only, Bali's best tattoo artists (another thing we NEVER say) participate in a contest and so, many of them offer their services at a discount price, maybe even free. There are hundreds of professional tattoo artists participating, from Bali, from other parts of Indonesia, even people coming from overseas. Check out the contest categories below and contact us if you want to apply to be a model.
You'll find the "alternative" rock n' roll TATTOOED subculture community in Bali is surprisingly chipper, close-knit and supportive, even at a full-blown tattoo competition like this.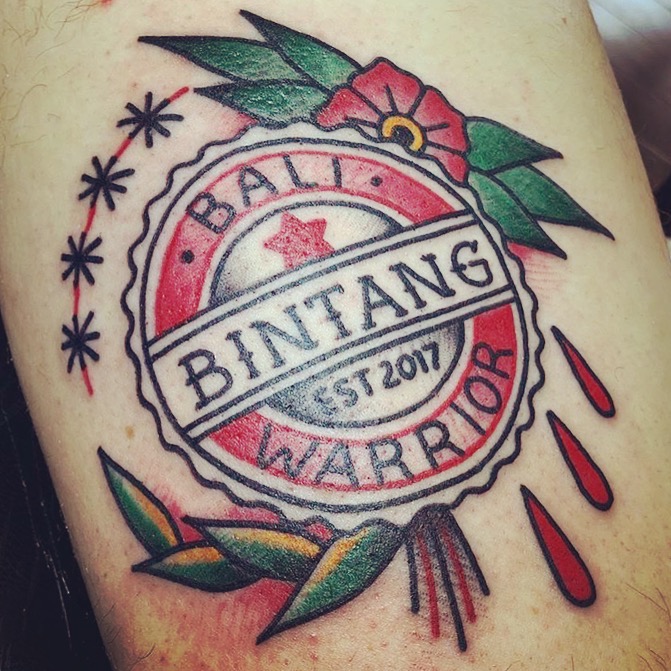 Need some drinking buddies? We're heeeeere. [Tattoo by GUNZ]
And after the tattooing is done each day, it's time to down some brewskies! We have a big suspicion there will be a lot of tuak as well, the local arak-like spirit made from coconut water. There's event food stalls outside and there will be live reggae music at night.
When is Bali Tattoo Expo 2018?
Friday 18 May, Saturday 19 May, Sunday 20 May 2018
10am – 10pm
How much does Bali Tattoo Expo cost?
Tickets are Rp. 30,000 ($3) per person at the door. It's a steal.
Where is Bali Tattoo Expo?
BALI CREATIVE INDUSTRY CENTRE
Jl. Wage Rudolf Supratman No.302, Kesiman Petilan,
Denpasar Tim., Kota Denpasar, Bali 80237
Tattoo Contests
Check out the contest categories here.
DAY 1 – Friday 18 May 2018

10:00 am – 10:00 pm
Best of day
Best oriental
2nd place oriental
Best realist
2nd place realist
Best American/Neo Traditional
2nd place American/Neo Traditional
Best tribal/ornament
2nd place tribal/ornament
DAY 2 – Saturday 19 May 2018
10:00 am – 10:00 pm

Best of day
Best flora
2nd place flora
Best fauna
2nd place fauna
Best blackwork
2nd place blackwork
 Best figure
2nd place figure
DAY 3 – Sunday 20 May 2018
10:00 am – 17:00 pm

 Best of day
Best small color tattoo
2nd small place color tattoo
Best small black grey tattoo
2nd place small black grey tattoo
Best large tattoo
2nd place large tattoo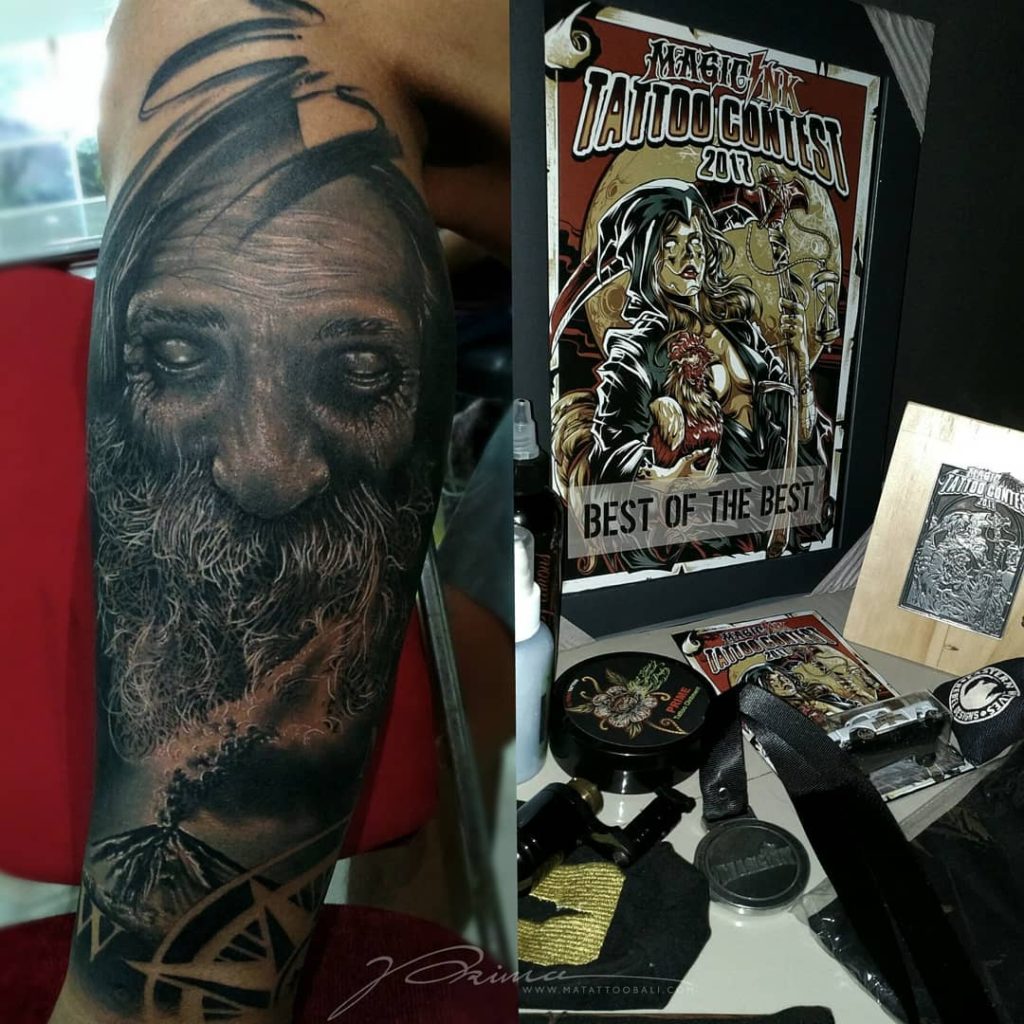 Is it safe to get tattoos at Bali Tattoo Expo?
It should be. Everyone wears gloves uses new sterile disposable needles, and the end of each day, the needles go into a collection box. Each artist station has their own soap and disinfectants. Keep yourself clean and wash your hands regularly, and you should be fine.
TATTLAS at Bali Tattoo Expo

We are vibing the fun and supportive role with our TATTLAS booth, complete with free brand swag and a complimentary cell phone charging station and a printer station for any artists needing to finalize tattoo designs and stencils on-site.
It's a special opportunity for us at TATTLAS to get feedback from you, our members and readers, about how we've done since launching Tattlas.com and Instagram.com/tattlas nearly a year ago. We hope to do some marketing promotion and blogging on the spot, and learn what is most important to all of you. We will update this post with exactly what's going on at the event!
This event is run by Magic Ink Magz.

Special thanks to the gang at Magic Ink for letting us be a part of this again.