Which Bali tattoo artists make the best portrait tattoos?
"Best" can mean a lot of things. When describing portraits, it usually means most recognizable, most attractive or most realistic, or all of those things. We won't say which artists or tattoos are "best" because it's a matter of taste, so…
To try to answer that question, let's look at celebrity portrait tattoos from our tattoo community. Most people can immediately recognize tattooed portraits of famous people and are quick to point out imperfections.
Celebrity Portrait Tattoos
Here is a gallery of celebrity portrait tattoos done by tattoo artists in Bali, Indonesia so you can check them out for yourself. We'll continue to add to this gallery regularly. Submissions are welcome, and if we ever have something wrong, please let us know!
You can also browse our directory of Bali tattoo studios and artists for those tagged as top choices for #PORTRAITS.
Tattoos of Musicians
Musicians, movie stars (and actors in character) and athletes seem to be the most popular subjects of celebrity tattoo portraits that we see in Bali.
Tattoos of Rappers
The meaning of a portrait tattoo is often admiration and #RESPECT.
Fictional Characters and Caricatures
Tattoo portraits that exaggerate facial features like cartoons help with recognition and adds personality to the artwork.
Batman's Joker
Tattoos of Athletes
Color Portraits 
Full color designs are suited to modern celebs, athletes and action heroes who are most easily identified by their signature style, team colors or kick-ass costume.

Sabian Ink opened in Kuta, Bali in 2017 headed by tattoo artist owner Ata Ink from Sulawesi whose color tattoos received recognition within the local community and at tattoo expos abroad rocket-launching the studio to the top of its game.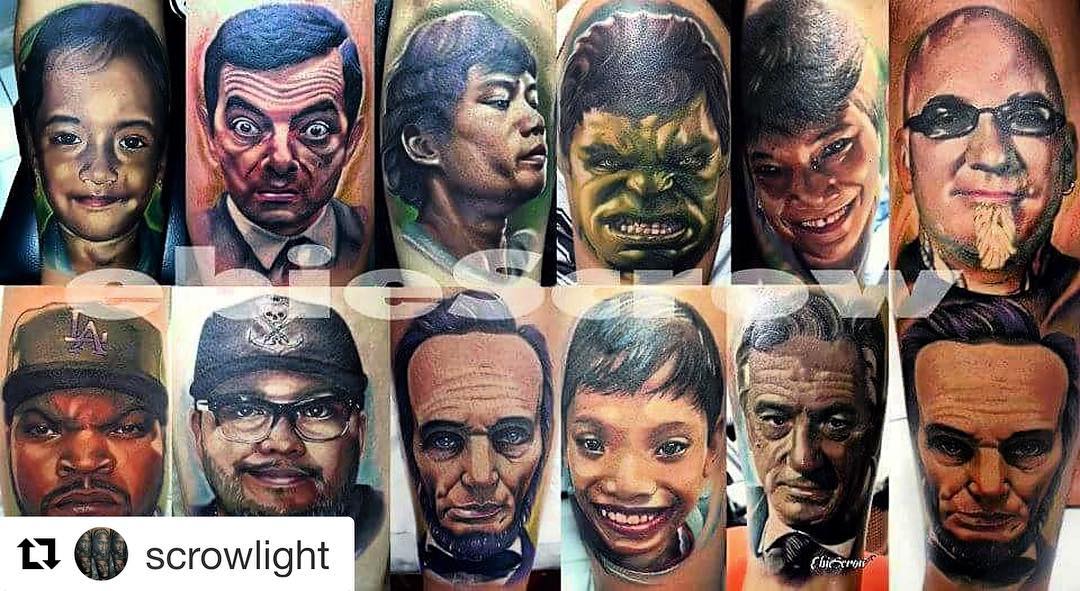 This color tattoo portrait collection was made by Ebie Scrow at Goldfinger Tattoo Studio in Bali, Indonesia over a course of years (prior to 2017).
Black and Grey Portraits 
A realistic grayscale portrait is the preferred style for a tattoo of an early Hollywood star.
Audrey Hepburn and Marilyn Monroe
Jesus Tattoos
Black and grey portraiture not only brings to mind iconic 1950's imagery, but is also suited to basically any era before color photography and TV. We'll put Roman Catholic, Classic Art and Greek Mythology in a separate blog post.
Historic Figures
Want to submit your Bali ink? Here's how:

Last update: 12 November 2018.