Need a hot destination for red tattoos?

Bali, Indonesia might be your answer. This tropical island should be a bright red beacon for anyone with a wild heart and an attraction to body art. In the balmy beach towns of south and west Bali, showing off some skin is a given and the more #inkedup the better. There are hundreds of tattoo artists in Bali to choose from. For many visitors, the allure of getting a Bali souvenir tattoo is an ever-present and easily-satisfied temptation.

There's always plenty of fresh ink to see around here and a variety of tattoo art keeps heads turning, but you'll also notice popular Balinese tattoo designs and trends too – trendy tatts can be tattoos of a certain thing, Bali volcano tattoos have erupted for example, or a specific tattoo placement like 'sternum' tattoos which you very suddenly notice again and again. And again.
The Red Tattoo Trend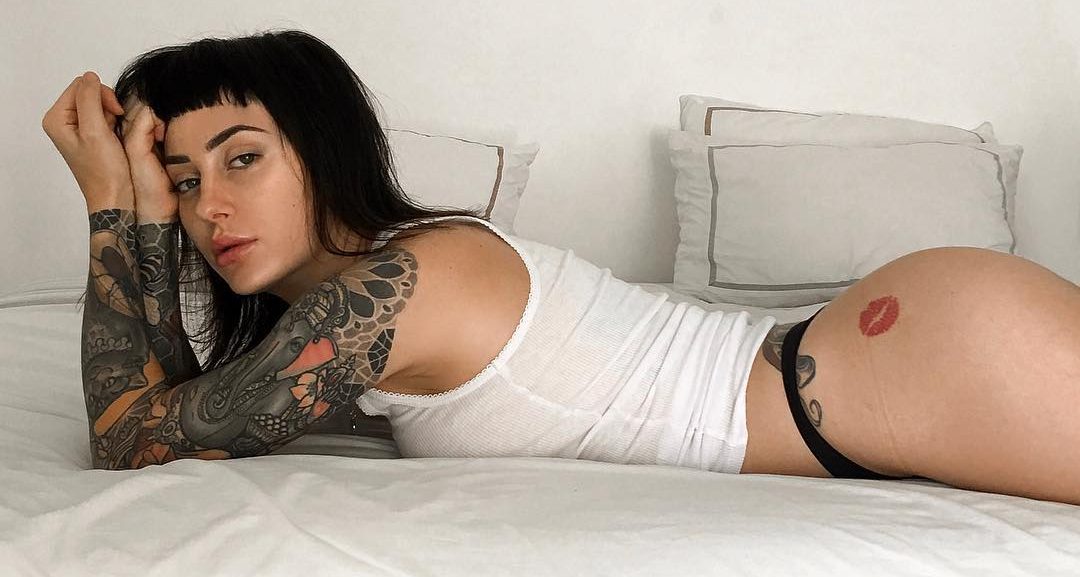 Trends are funny because they start out as something unusual, so attractive that you might think 'OMFG I NEED THAT.'  Like does everyone reading this want a lipstick smooch ass tattoo, or is it just the ladies at TATTLAS?
Careful. Because when a trend becomes too popular, it loses its magnetic magic power. Examples. Remember when it was common to get a little red devil tattoo? Or the Playboy Bunny logo? Hell yes? Well, zero requests these days. If you actually HAVE a naughty lil' demon stamp and are less than 50 years old, we'd love to hear from you because we're intrigued to say the least. Chances of that one actually making a comeback are higher than ever before because, guess what. There's a tattoo trend you're guaranteed to see everywhere from Kuta to Karangasem that wasn't there before. … Red hearts. Red mandalas. And more red tattoos.
∴
RED TATTOO GALLERY  
Curated collections of recent and rediscovered red Bali tattoos.

There's nothing we l<3ve more than red ink right now, except possibly the versatility of this tattoo trend. So jump on board with the new wave  – it's easier than riding the swell at Echo Beach. For anyone pursuing a red tattoo in paradise, this blog post is a haute resource. TATTLAS Bali Tattoo Guide has done lots of research! We hope you'll be glad you "red" this…

Here, Even TATTOOS Get Red Tattoos
American traditional tattoos with red ink made by Gunz – Hundred Brothers Social Club
This artist is pretty much on fire for everything old school.

More tattoos with their own red tattoos – from Fandem Fay at Bali Famous Ink
This guy has 'RED' tattooed on his back. No seriously, he does. 
Small Red Tattoos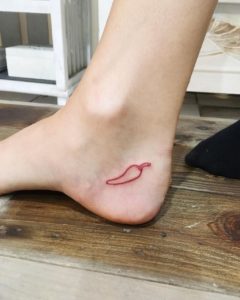 Small but spicy.
Lipstick Print Tattoos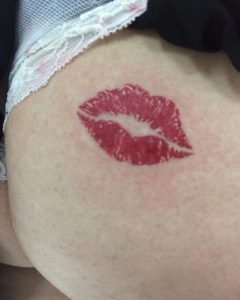 What is the meaning of a lipstick print on your butt?
Our answer: I don't care what you think.
In other words: Kiss my ass, bitch.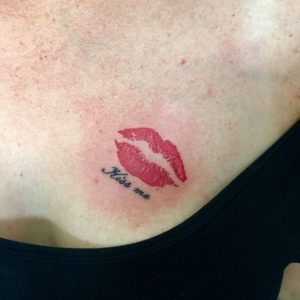 Muah.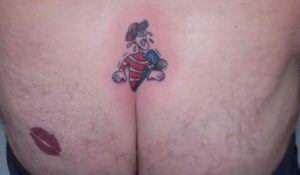 So that's why he's so hard to find.
This image needs a very dark vignette. Or maybe we'll just delete it very soon.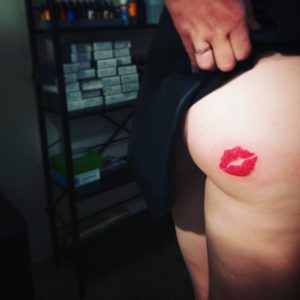 Sorry, the ring means she's taken.
and Rolling Stones Logo Tattoos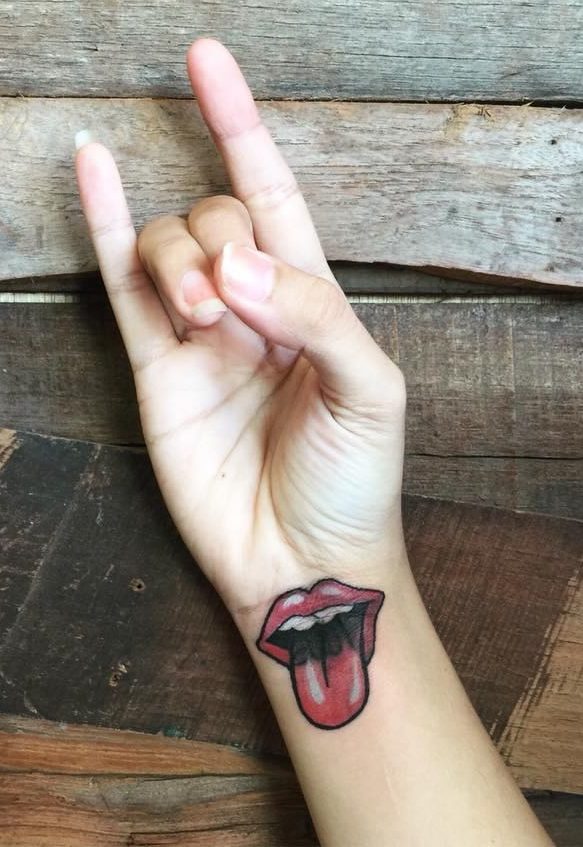 OK so this red tattoo (a cover-up) has a black outline, but rock n' roll tells us to break the rules.

Adweek.com explains the story behind The Rolling Stones' logo like this:
When 24-year old John Pasche was offered £50 to make a design, Mick Jagger's mouth inspired him to create "Hot Lips." It debuted on the 1971 LP Sticky Fingers and later became one of the biggest rock n' roll icons of all time.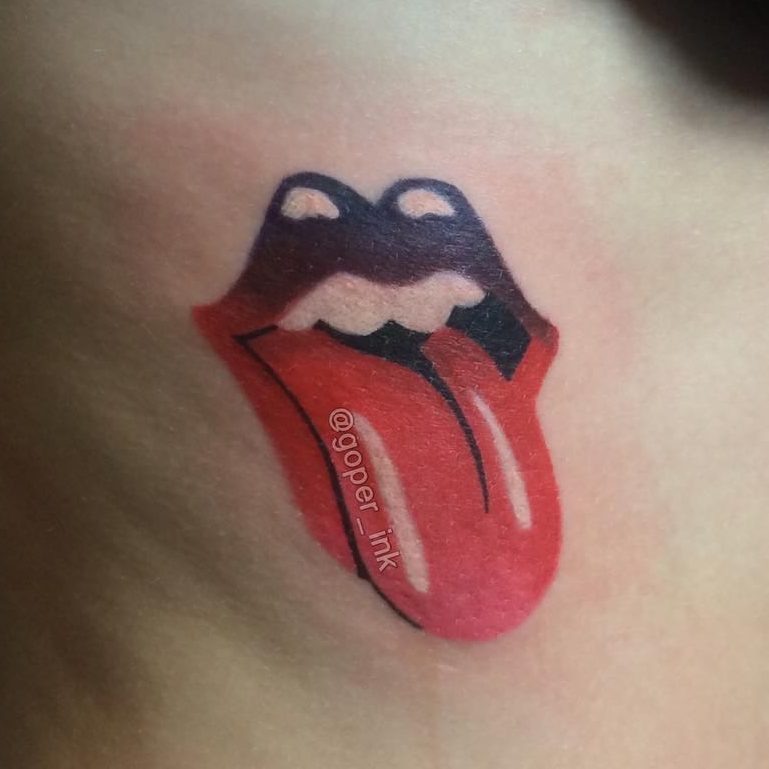 Hell, let's break the rules again. It's for The Stones, man.
Red Heart Tattoos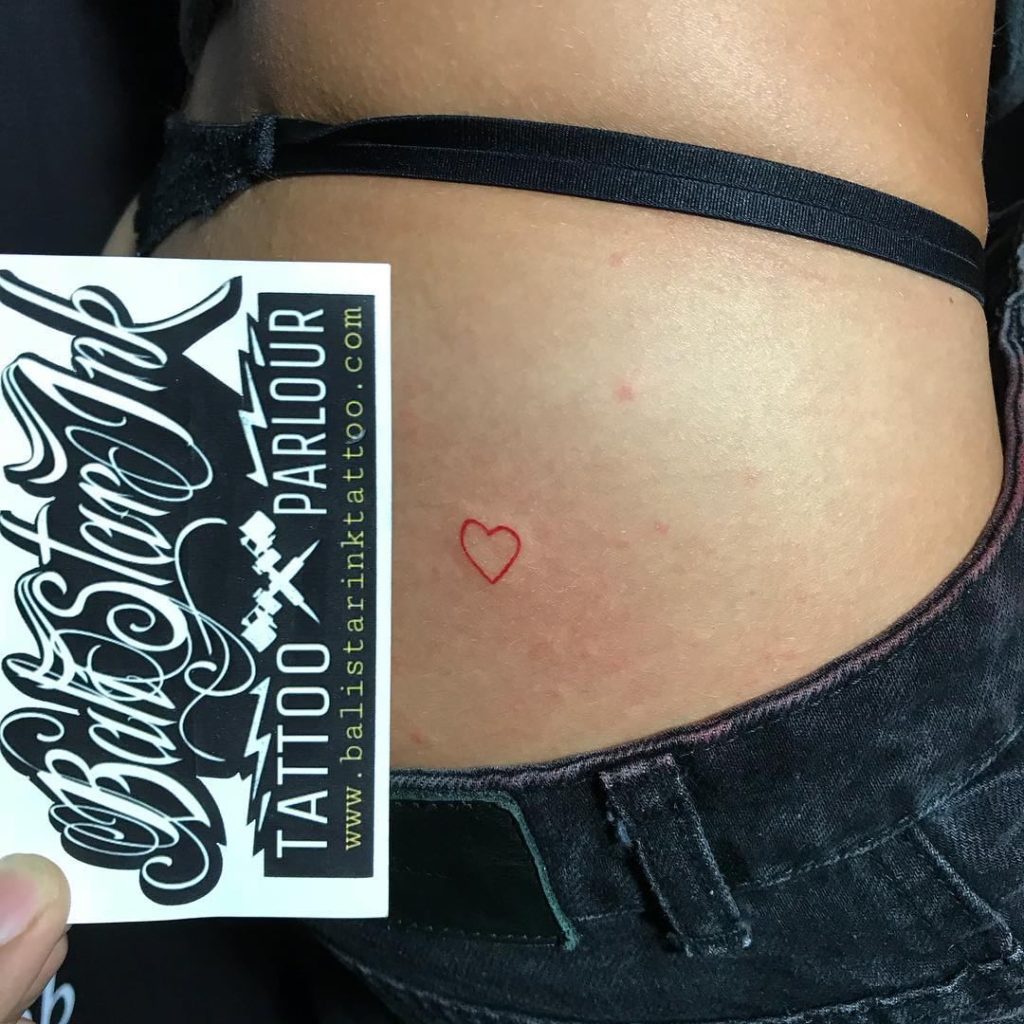 If I tap this, will it become a solid red heart?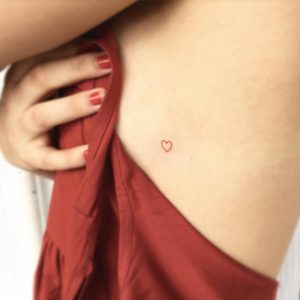 Love thyself.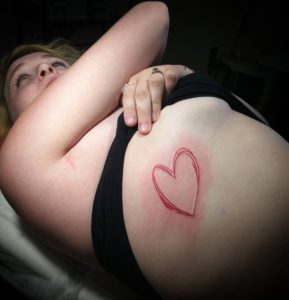 When love gets messy.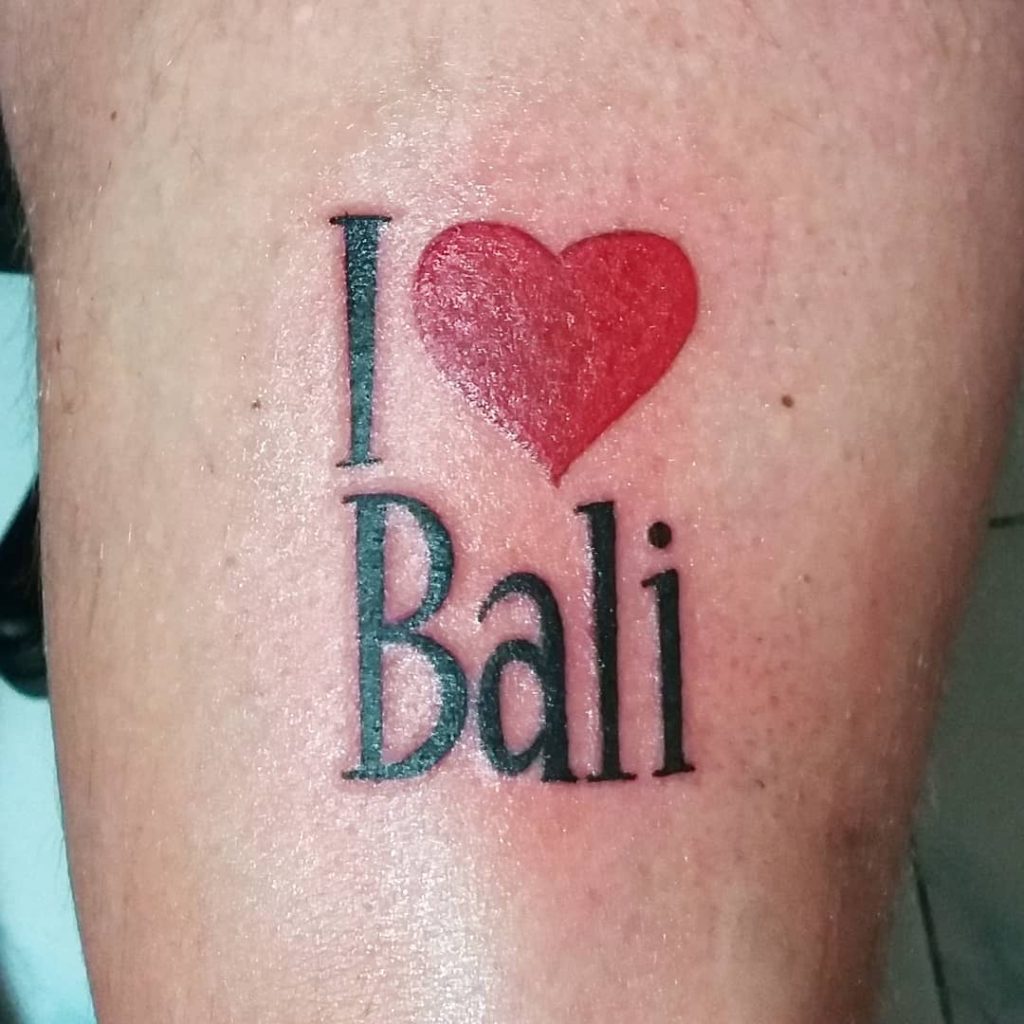 Aww, that's cute. I 🍷Bali.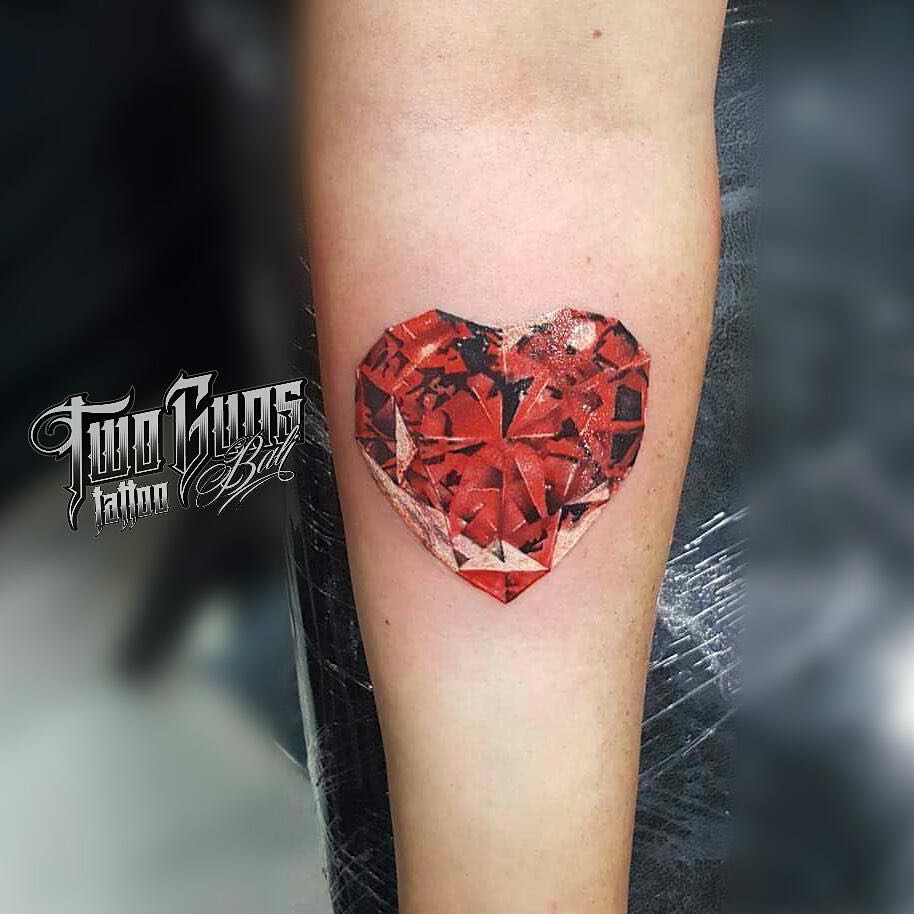 Exactly what both my eyes look like when I see this. What a gem.
Wearing a ruby may have healing powers. Learn all about rubies on this page of CrystalVaults.com.
Red Flower Tattoos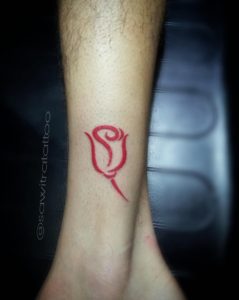 Is that from ClipArt? No Mate, it's from Bali.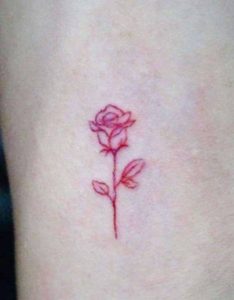 Smallest rose we've ever seen. See more: Rose tattoos from Bali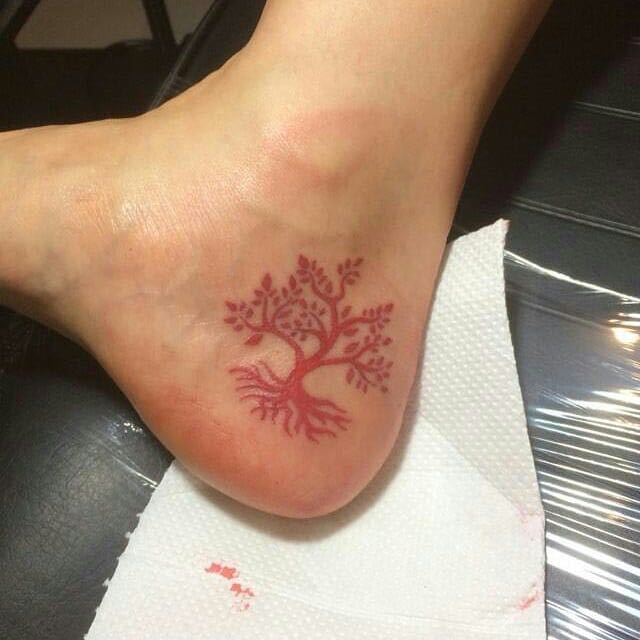 This red tree tattoo on the heel reminds us of something we read at SensationalColor.com. Red is the color of the Root Chakra, Muladhara. It's located at the base of the spine and allows us to be grounded and connect to universal energies.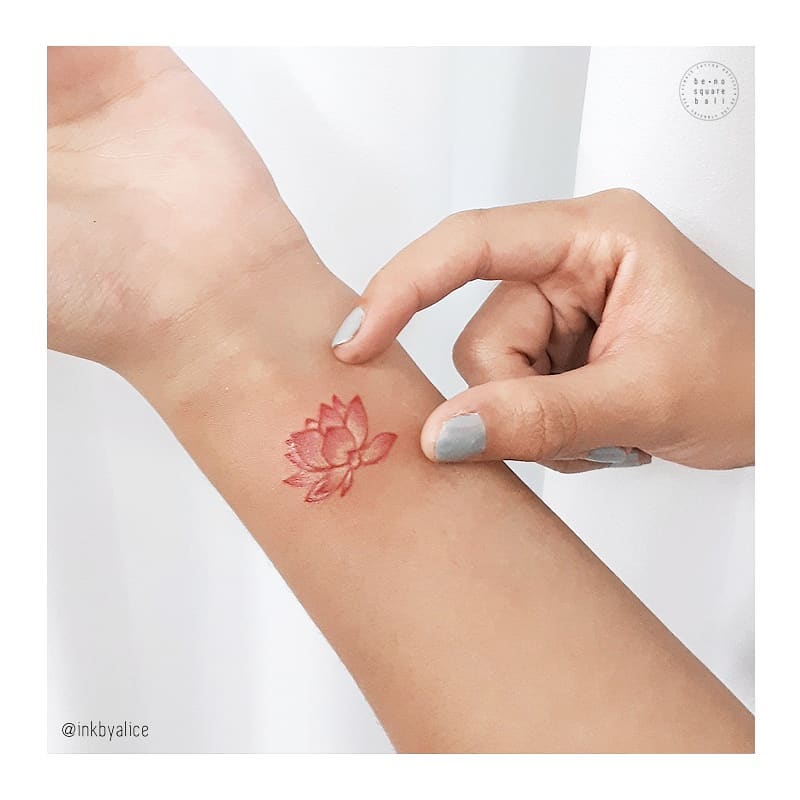 How did she make it SO pretty? We'll let you in on the secret: there's white ink in action here too.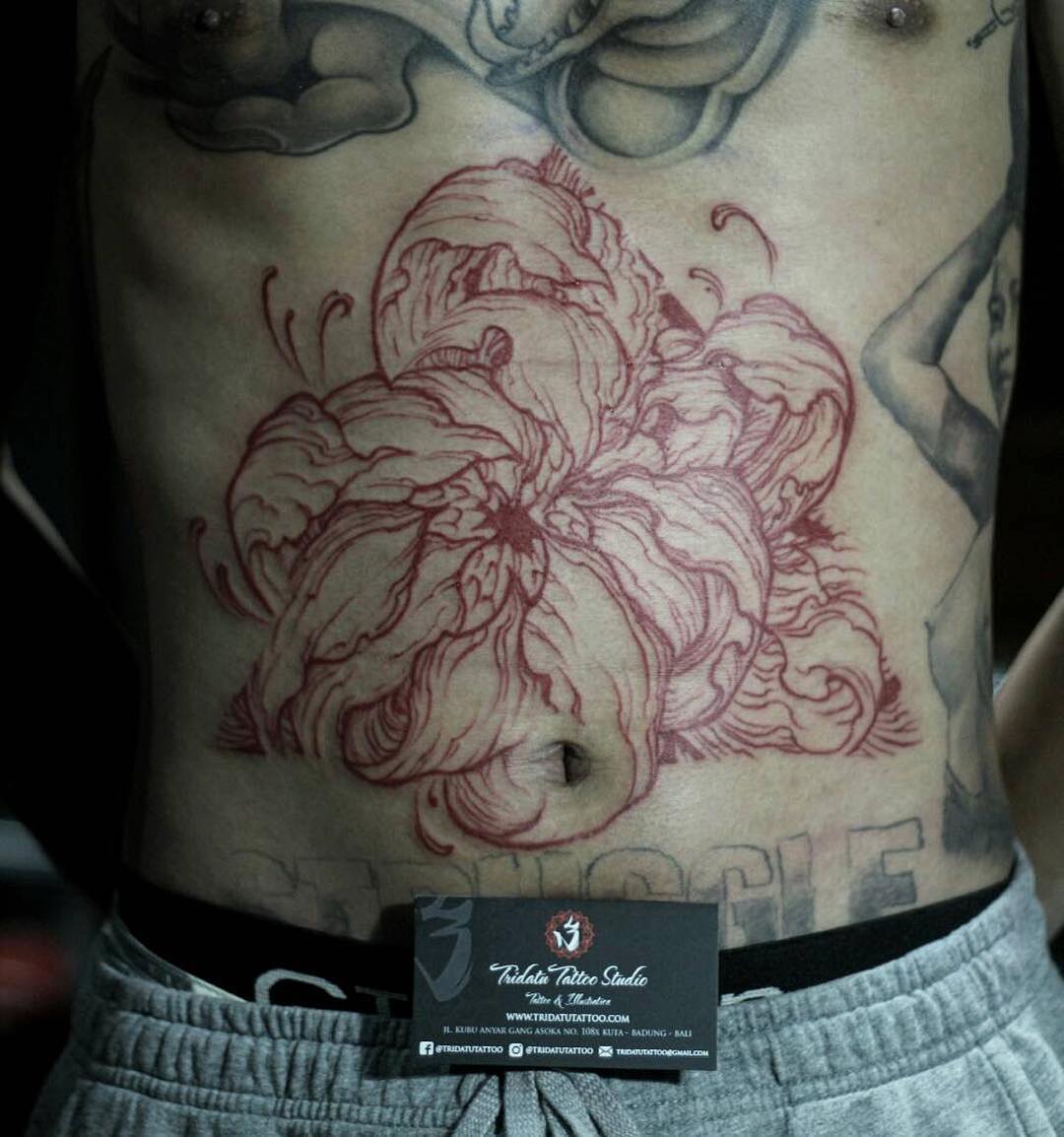 A big red piece by someone who almost never does color tattoos. Red is SO special.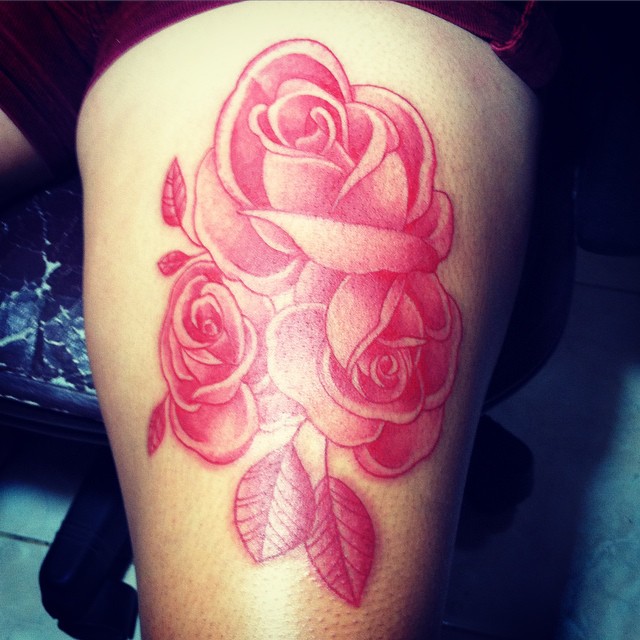 Romance with red shading right here. 
Red Lettering Tattoos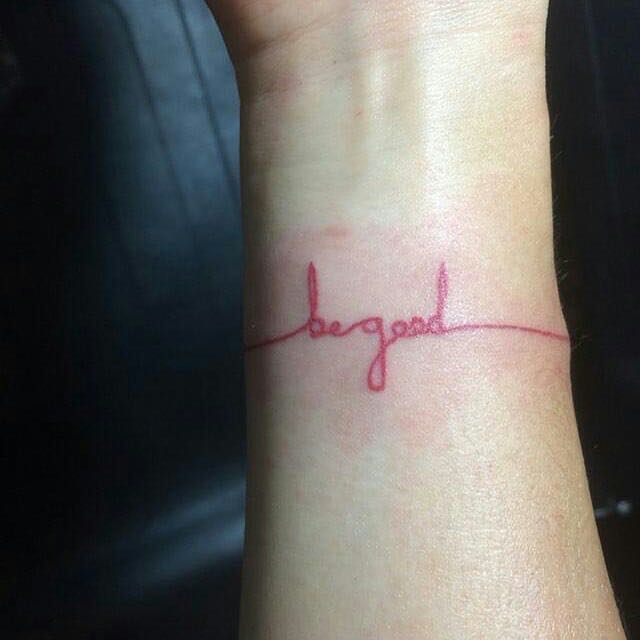 A little reminder never hurts (oh right, unless it's a tattoo).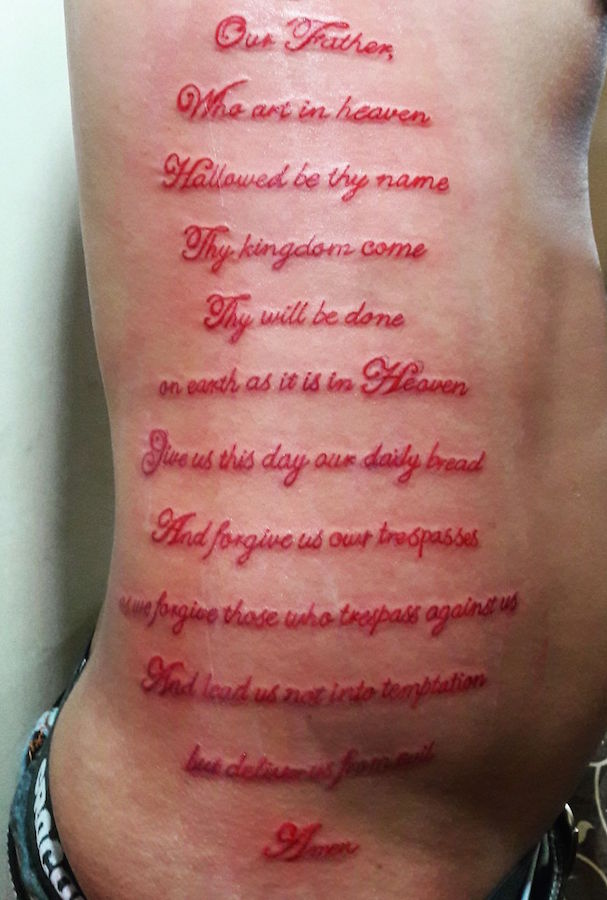 Amen.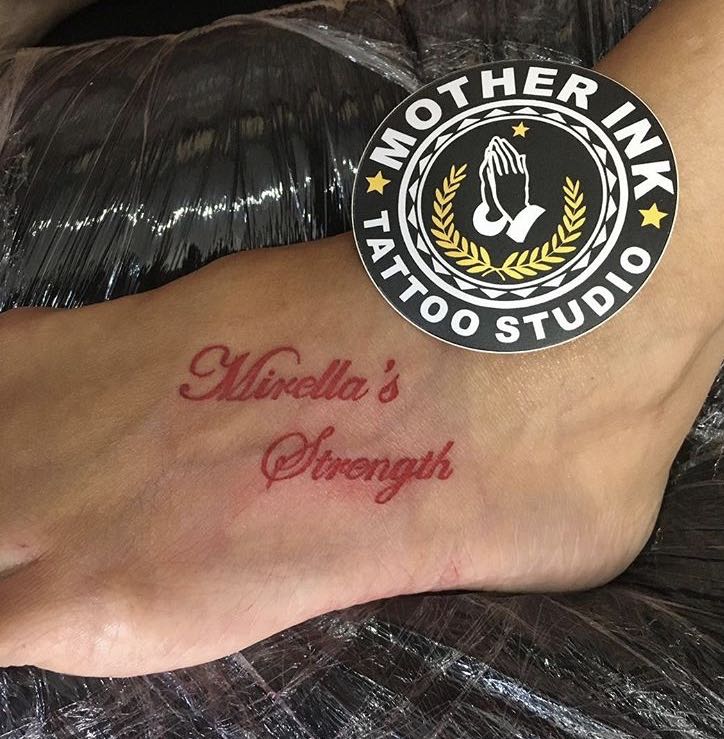 Think they meant "Mirella's Foot."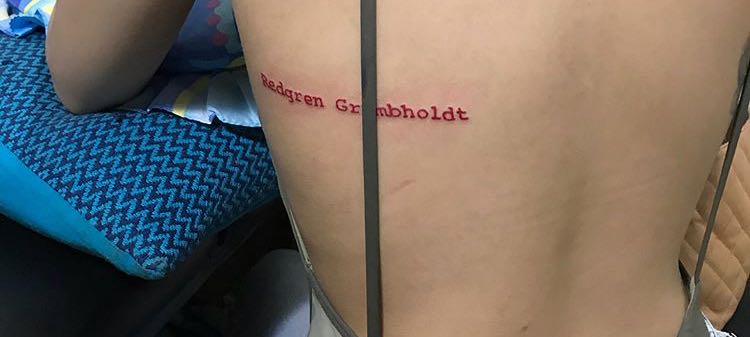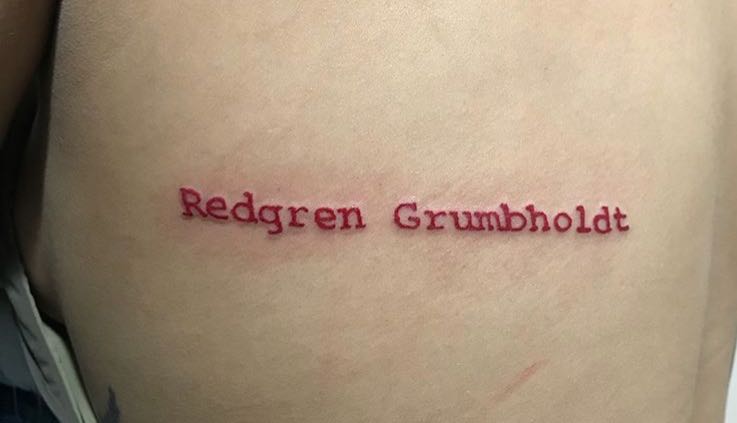 Who knows?
Red Travel Tattoos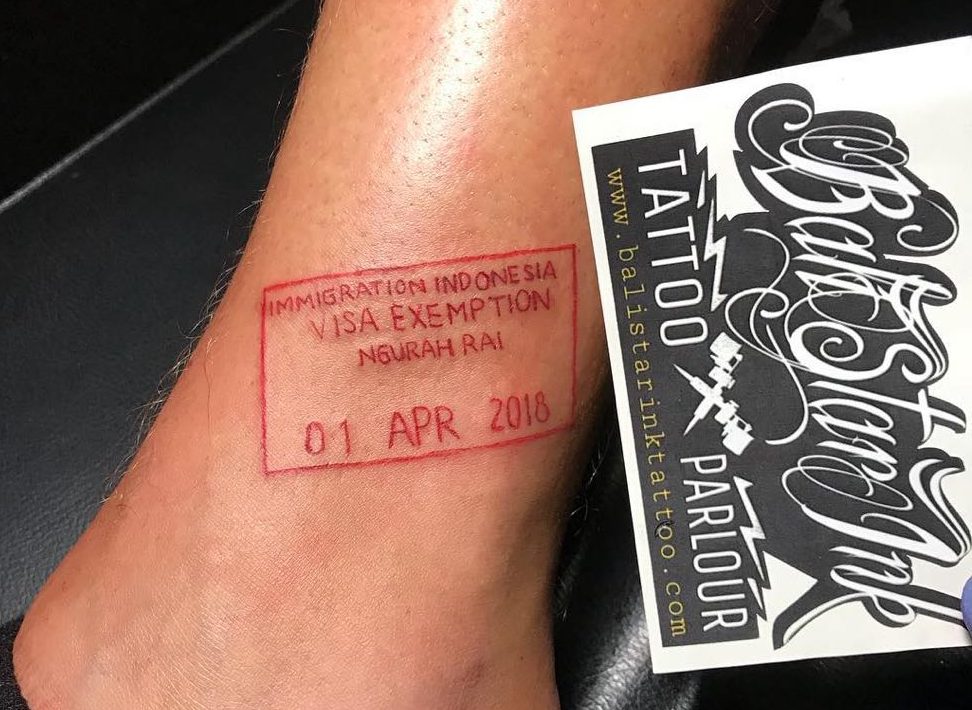 Make mine say 3018 pleaseandthankyou.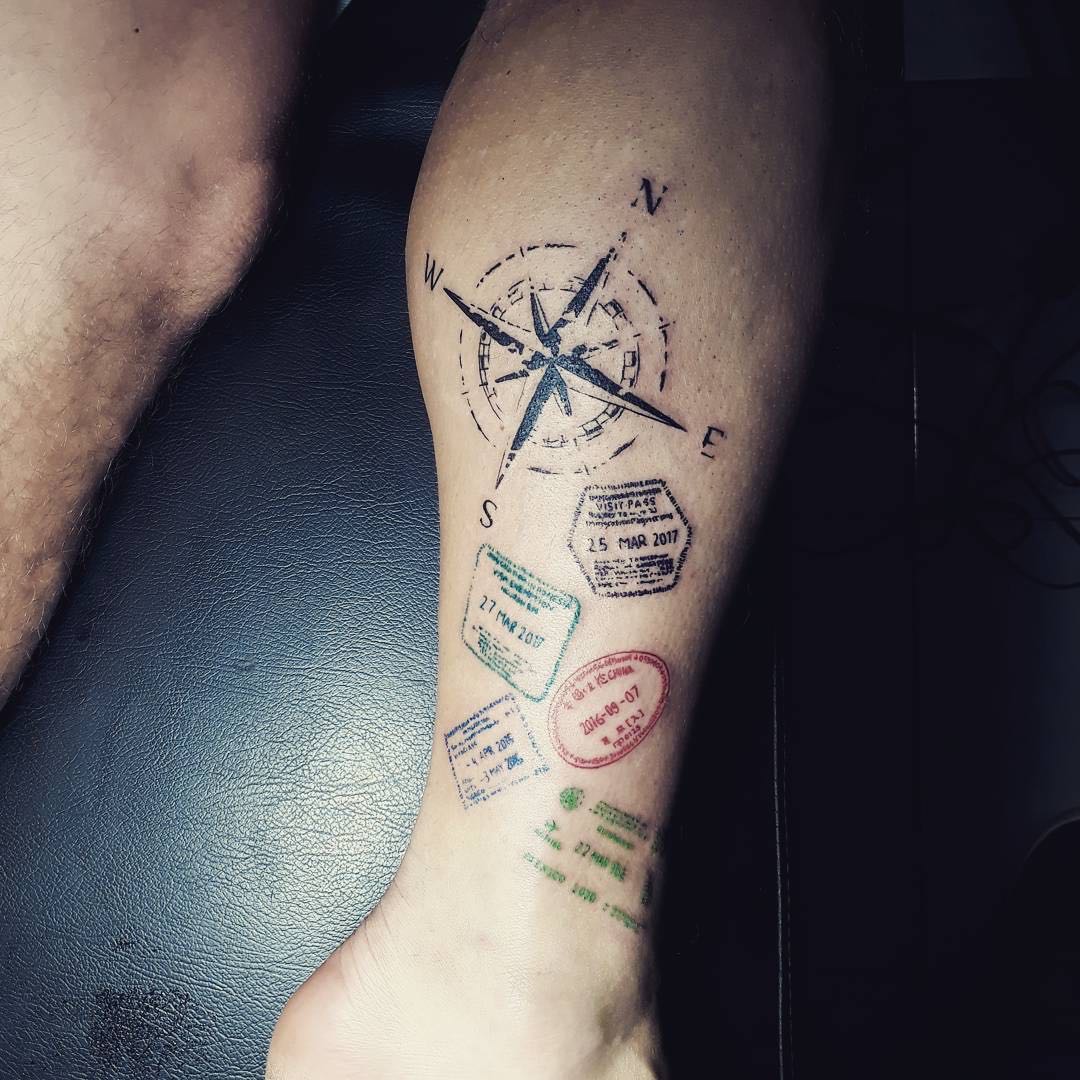 This leg had an epic 2017.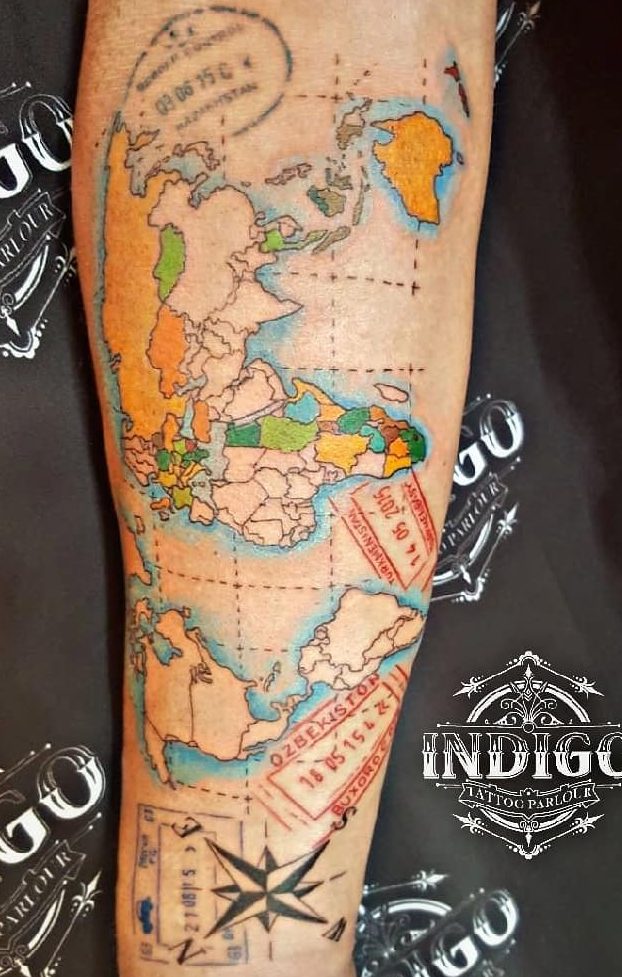 Indonesia: check.
Americas: nah.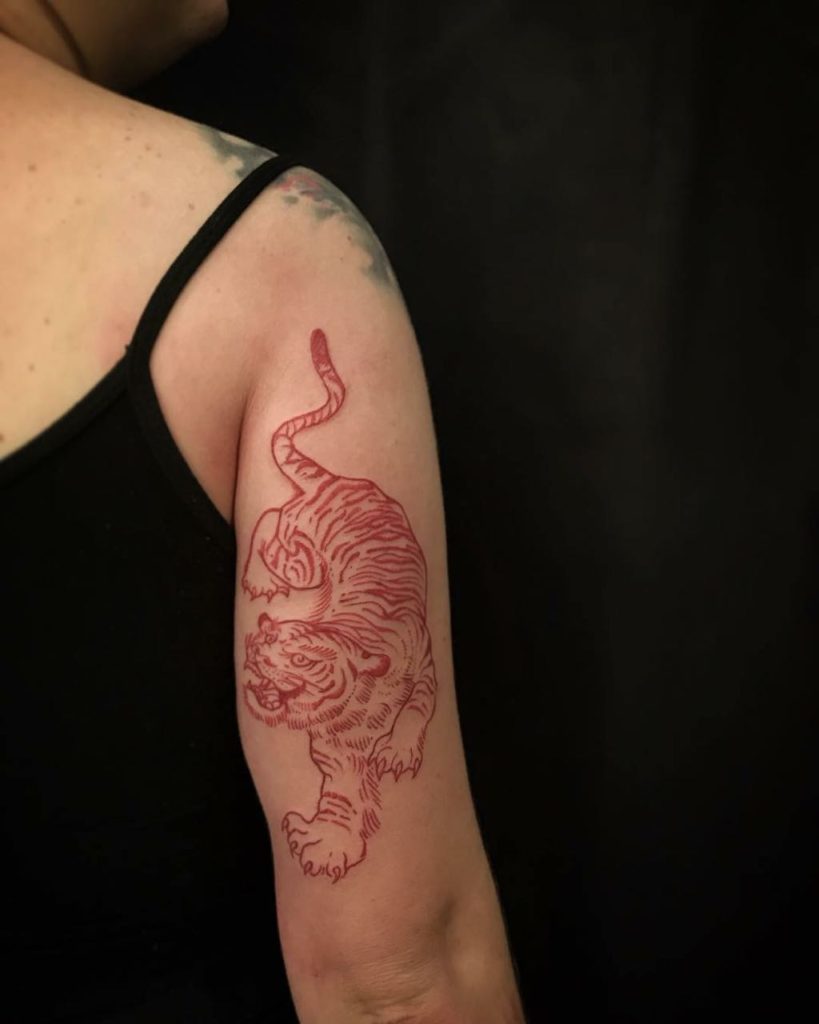 The extinct Bali tiger returns.  
Red Geometric Tattoos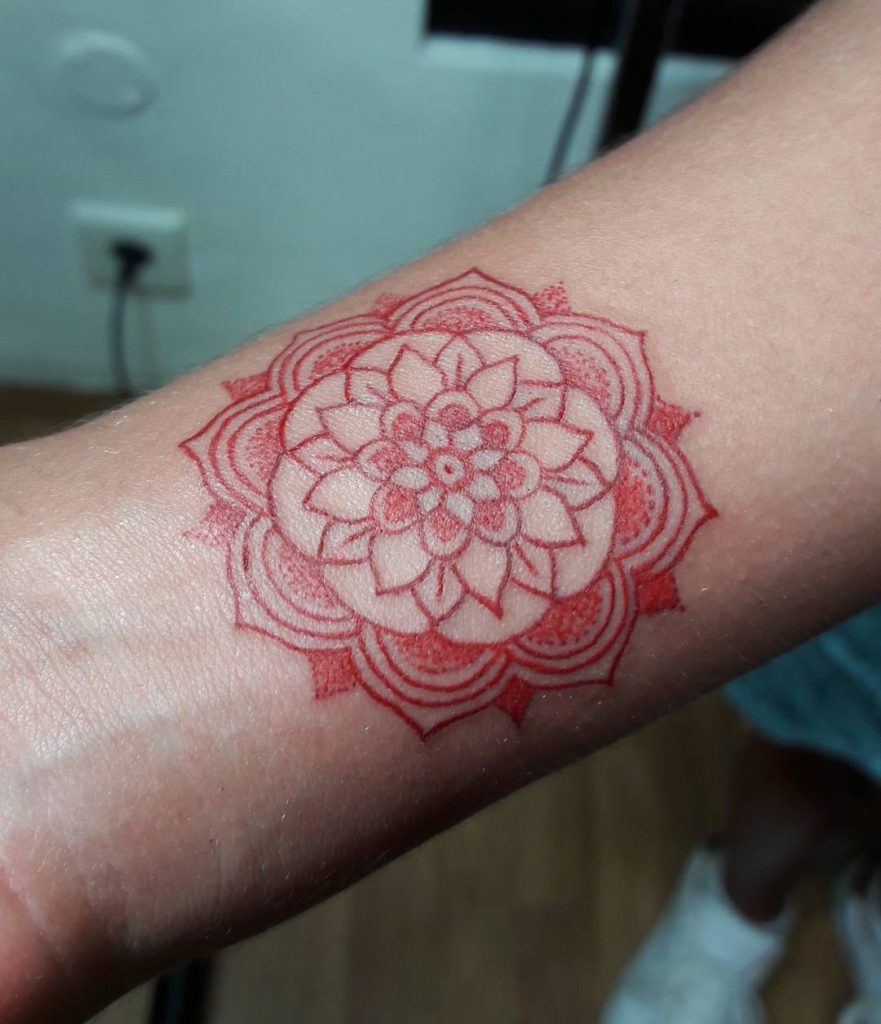 His dotwork hits the spot.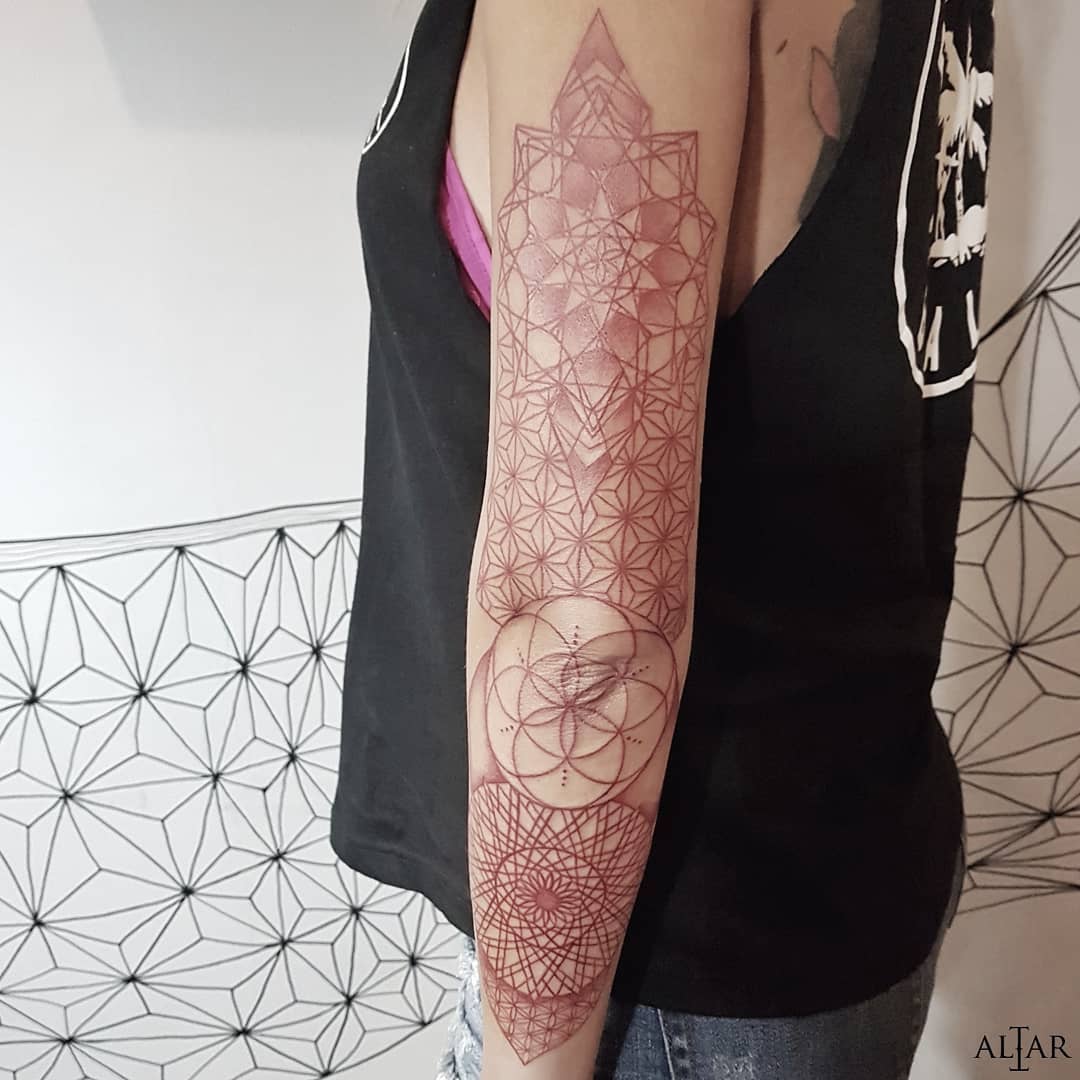 Something different from the decorated blackwork and geometric tattoo experts of Altar Altar Altar.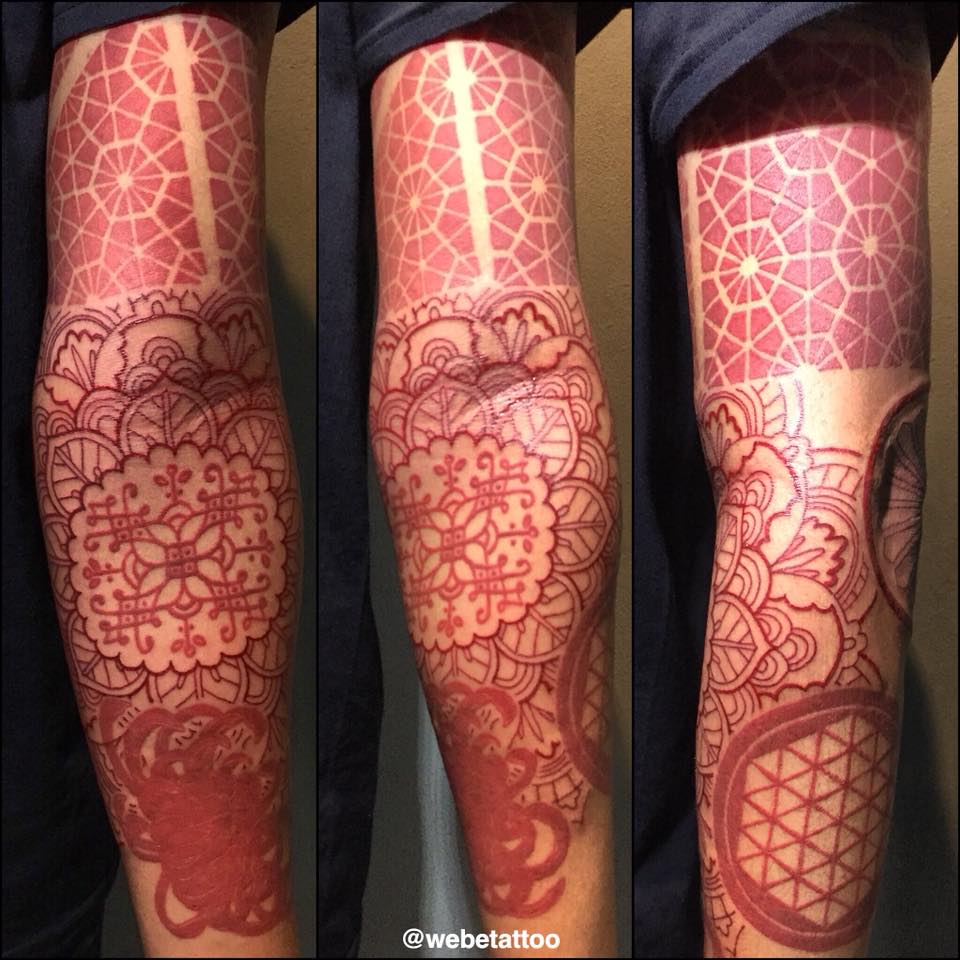 Special thanks to:
those Bali shrooms. 
Black and Red Tattoos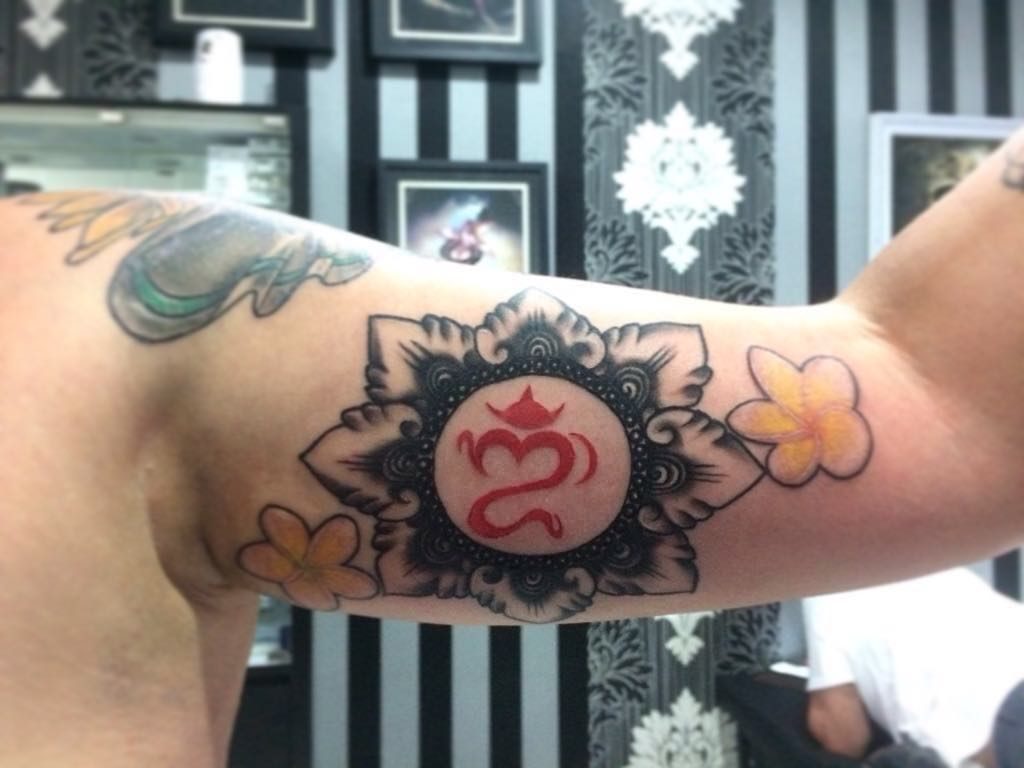 Tattoos of a Balinese om symbol (ongkara) promise balance and protection.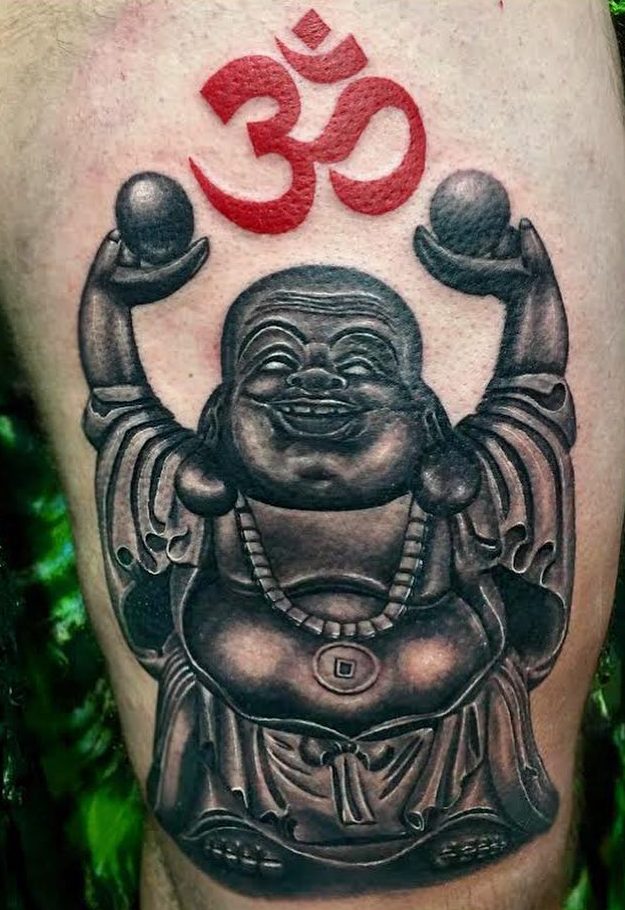 Not too sure, but I think the red thing above this Buddha is the international symbol for "I've been to Asia."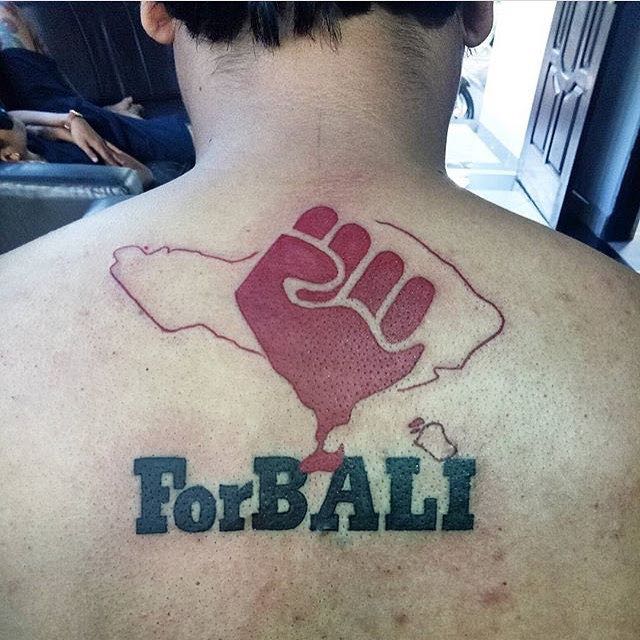 Conservationists unite!  Come on, we can do it ForEARTH.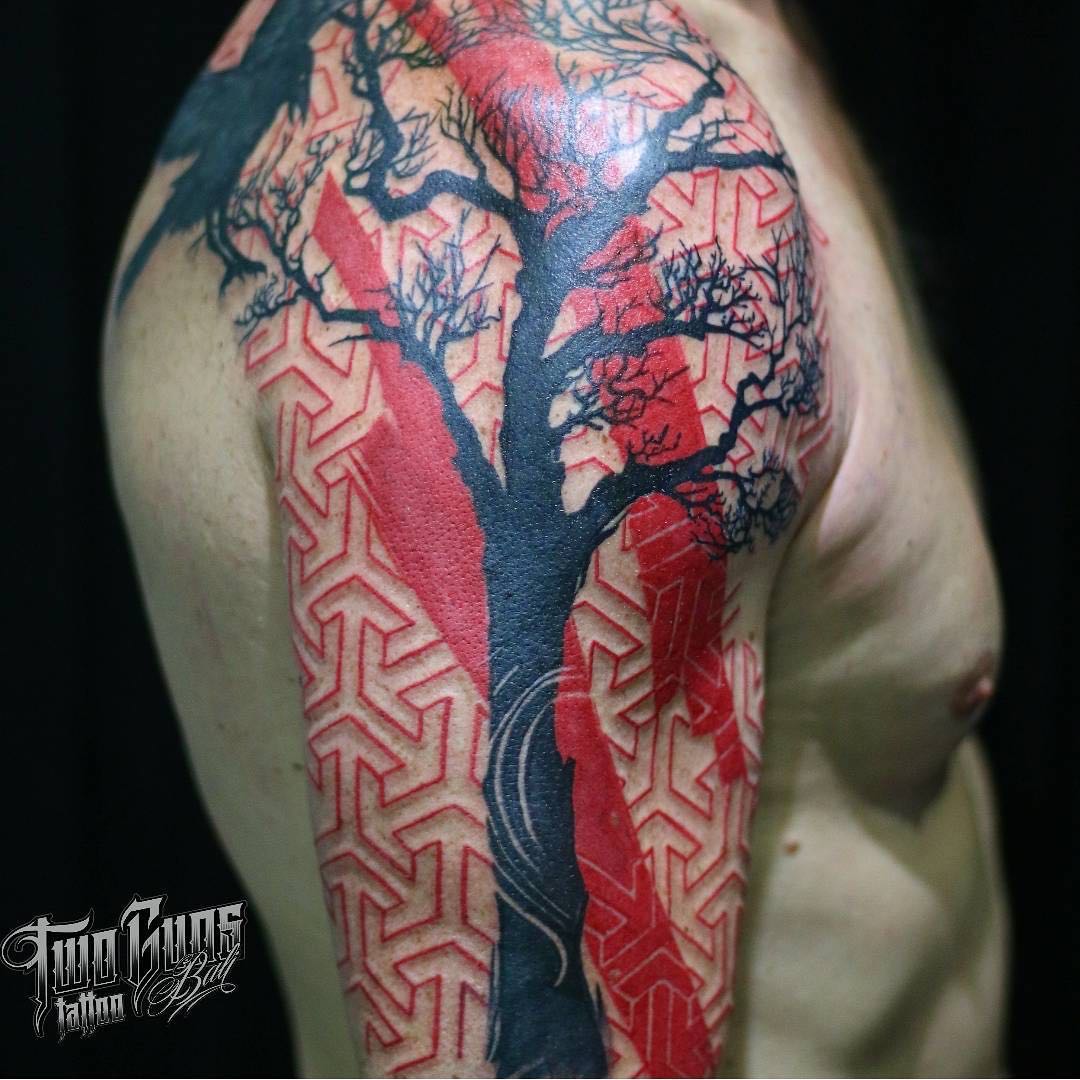 The mix of lines and color blocking with negative space make this a dynamic eye-catching piece. Designs with elements like this are a smart choice for people who want a bold tattoo which does not cover a lot of skin.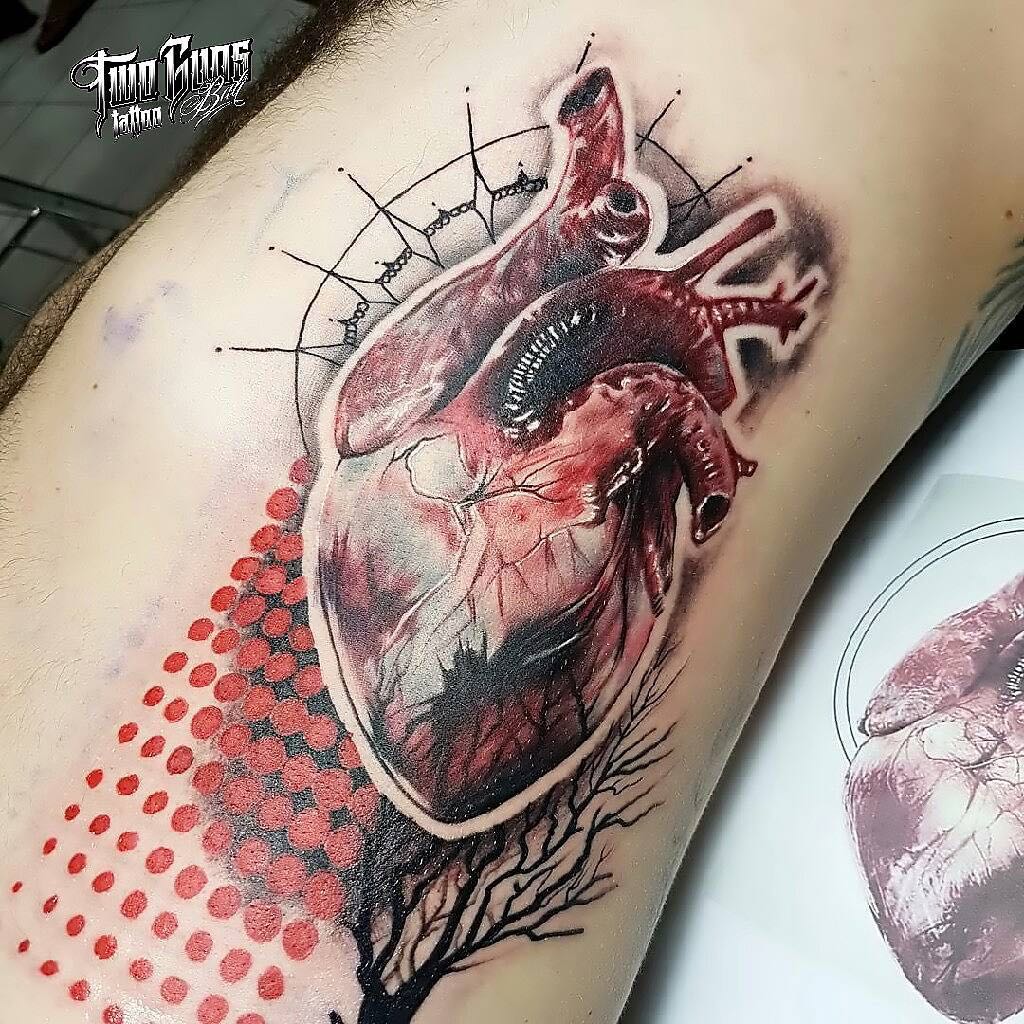 We call this an anatomical heart and not a realistic heart tattoo because it's super artsy, complete with primary red Trash Polka dots. They kinda look like drops of blood in this context.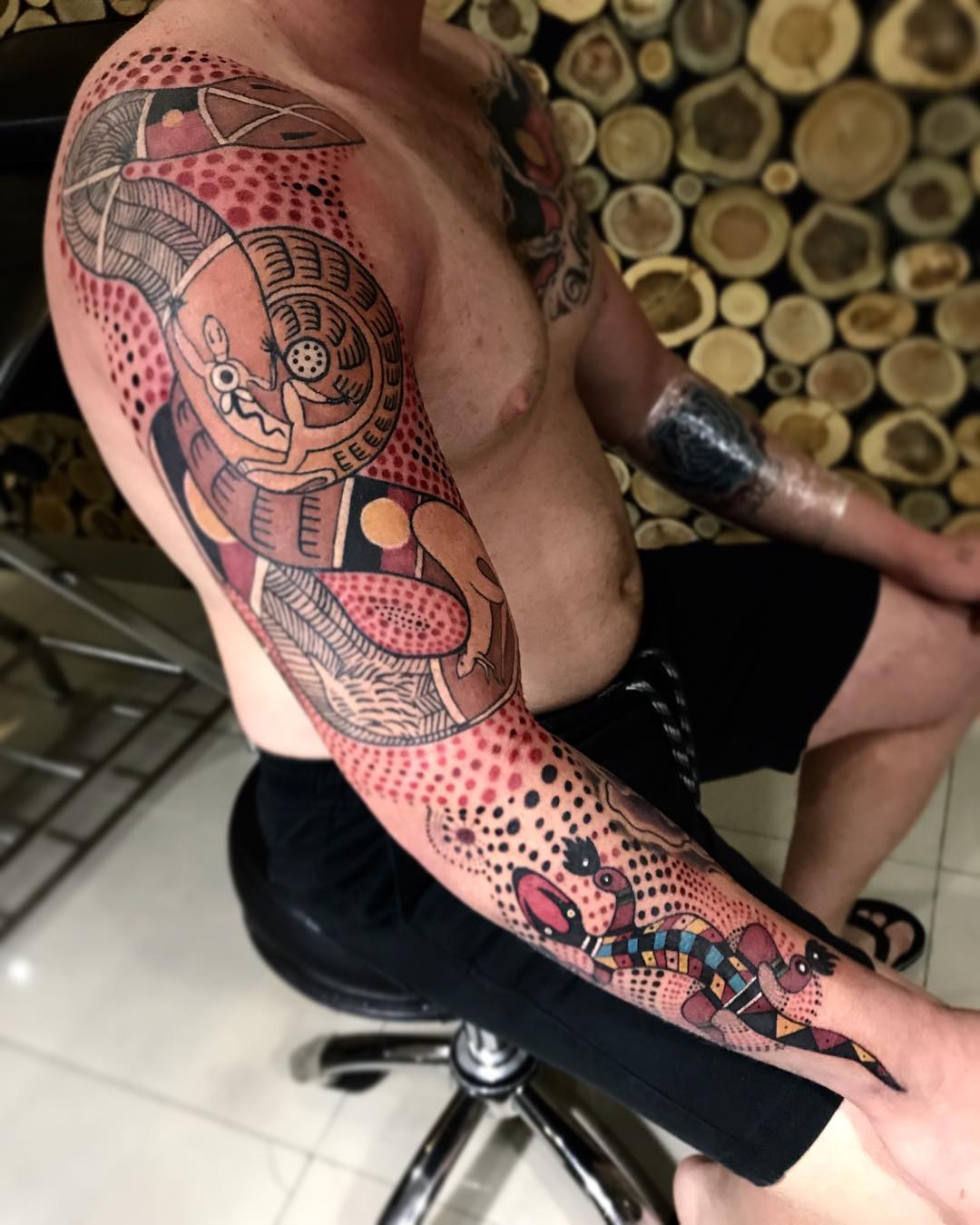 There are three things we love about this. One. We're drawn to red and black tattoos which also include brown, especially light brown or 'rawhide' colored ink. Nice earthy palette. Two. It honors heritage and cultural significance. Three. We love seeing a happy customer – he's obviously satisfied because there's fresh ink on his other arm too.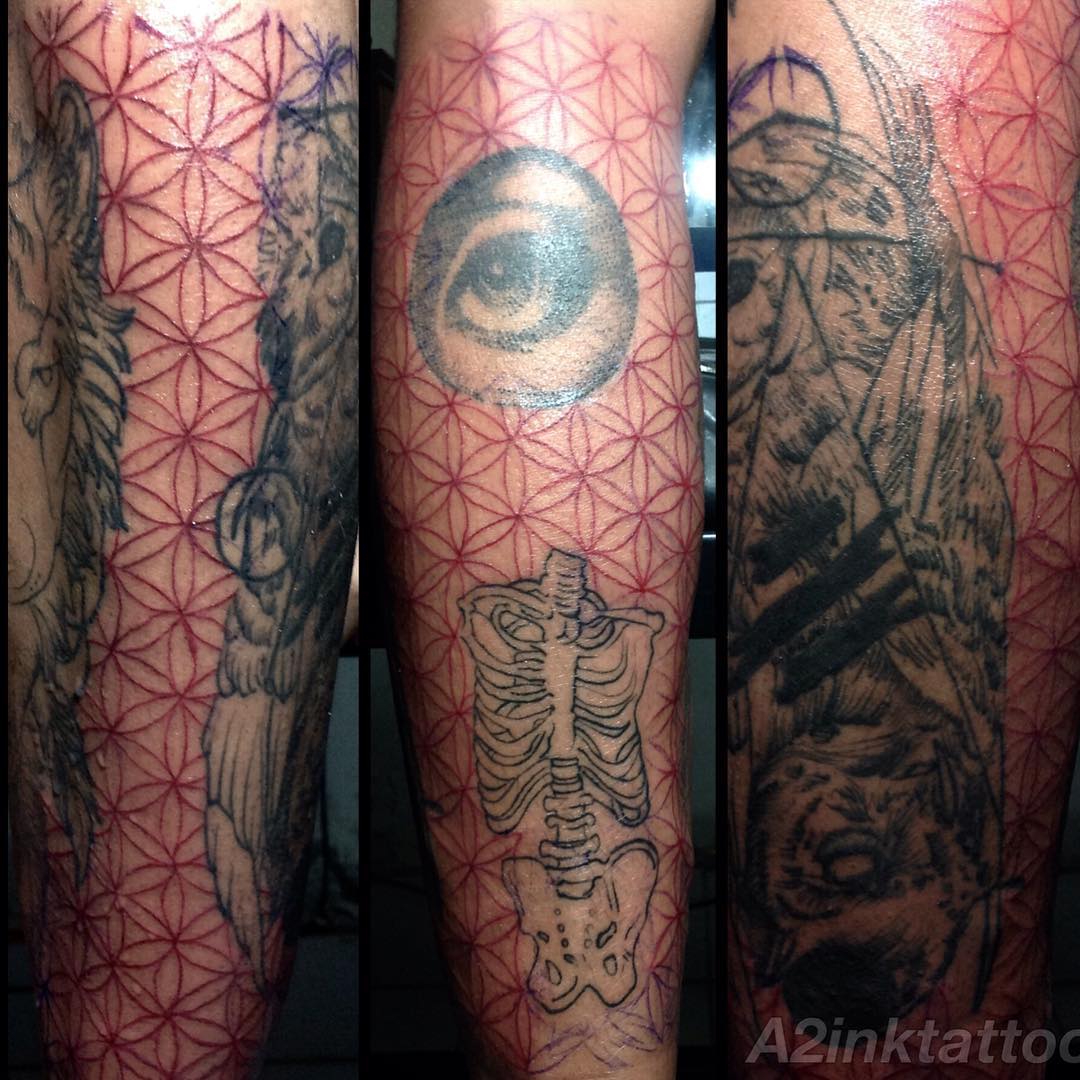 The geometric pattern in red looks like a variation of the traditional Japanese stitching pattern called shippo. Some people refer to this stuff as sacred geometry.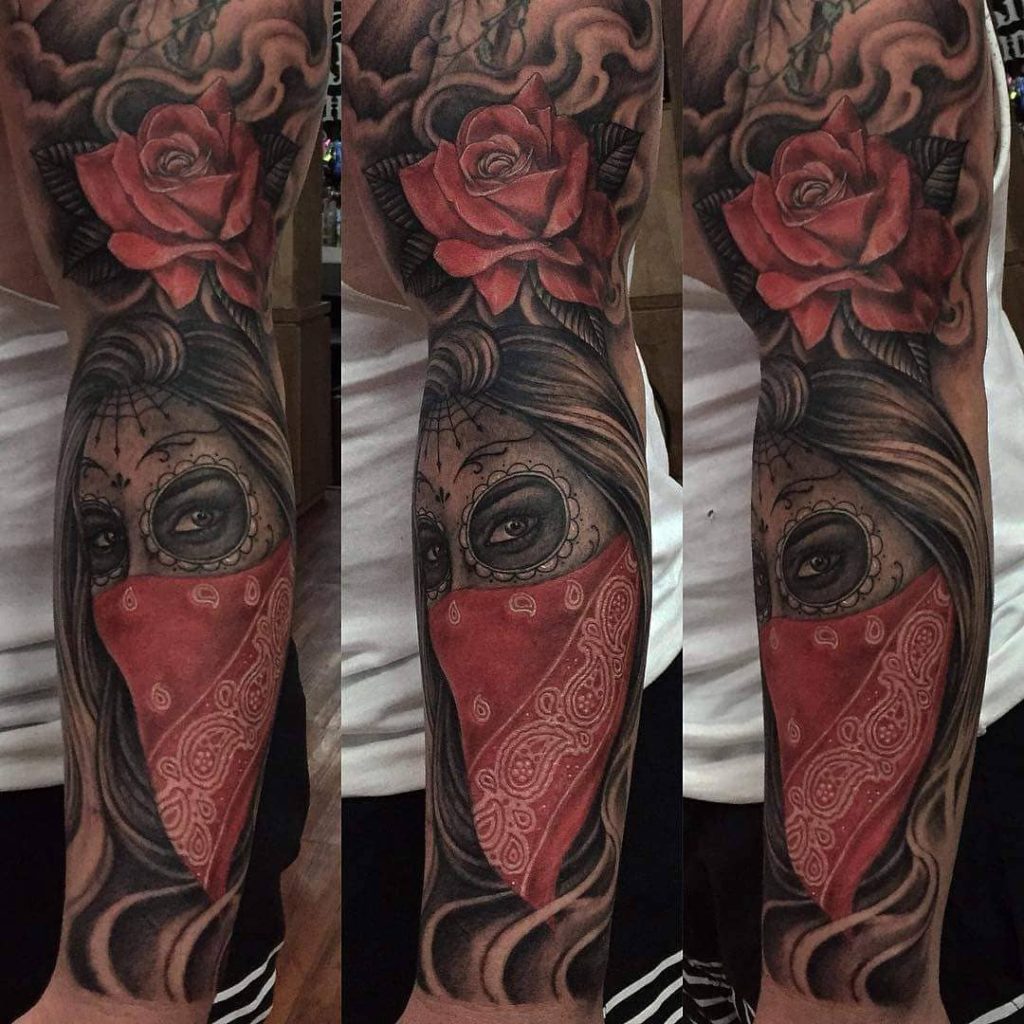 A red bandana: the perfect accessory, flashy AND functional.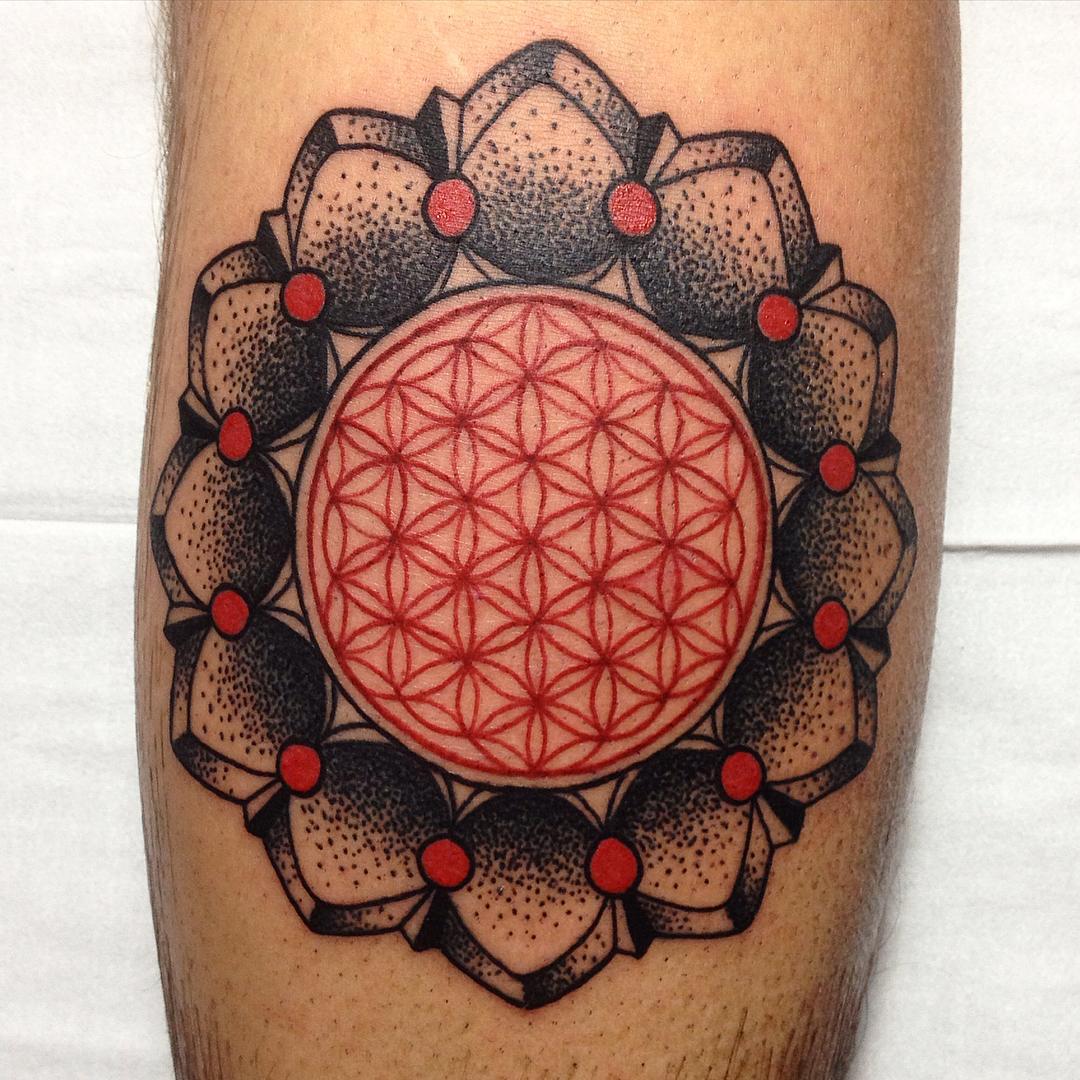 He's one of our go-to guys for ornamental tattoos.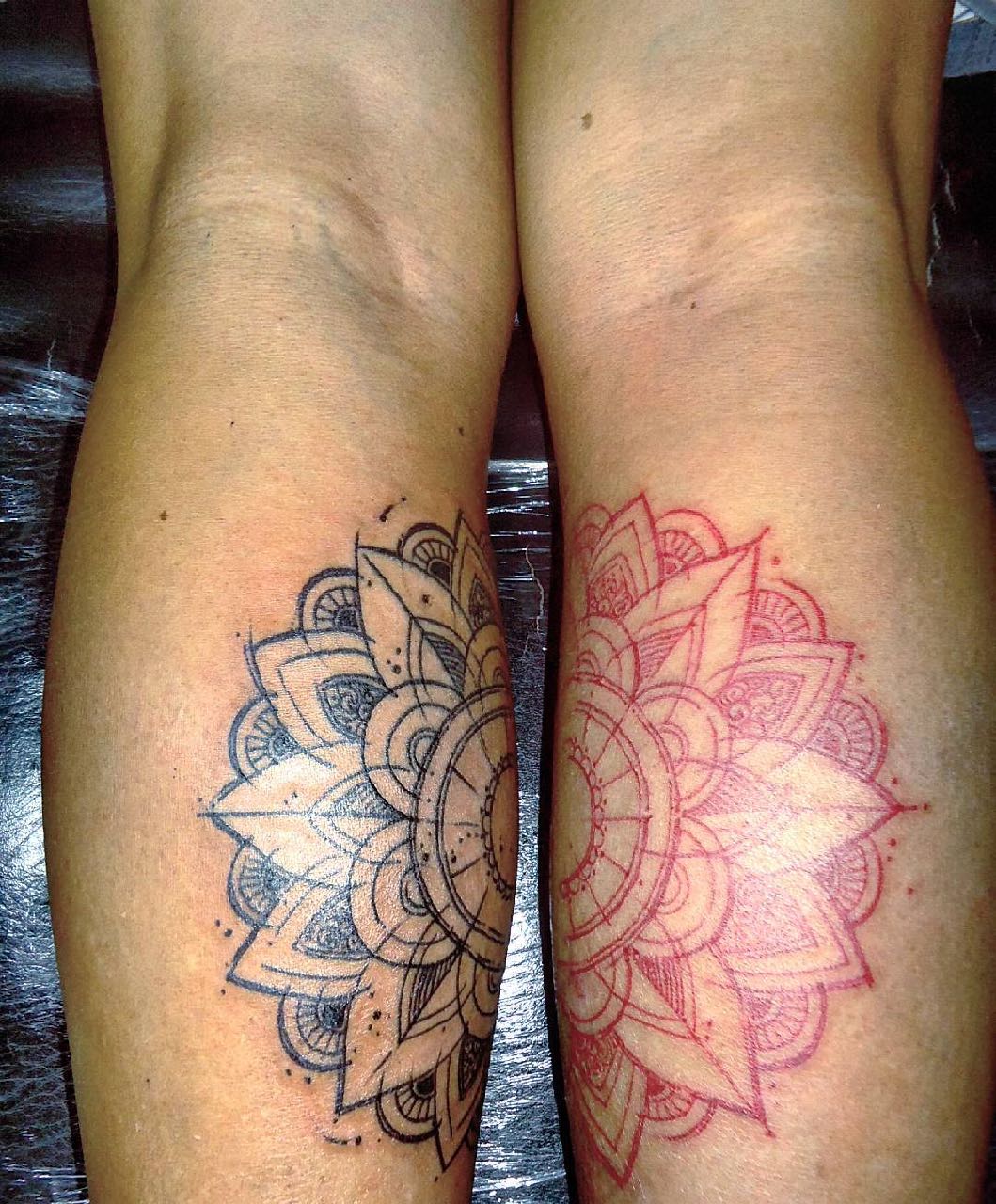 Warning: don't click this portfolio link unless you're prepared to spend hours drooling over artistic sketchy tattoo art.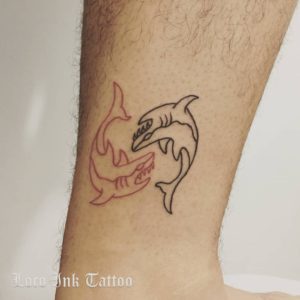 And the winner is… ?!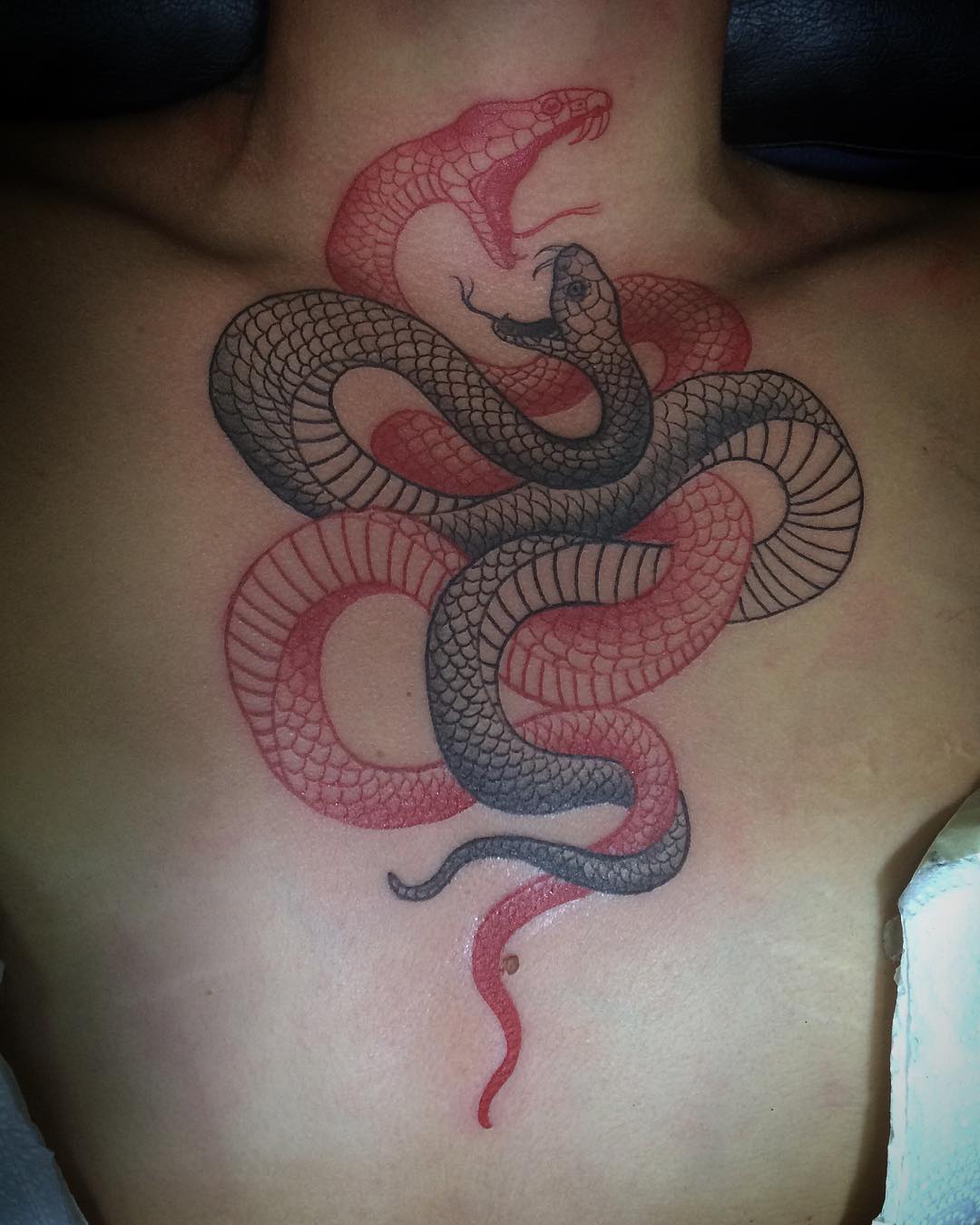 Red on top. 
Flash Tattoos
More red tatts to come? Hope so.
The Meaning of the Color Red
Think before you ink. 
Effects:
Increases enthusiasm
Stimulates energy and can increase blood pressure, respiration, heartbeat and pulse rate
Encourages action and confidence
Provides a sense of protection from fears and anxiety
Facts:
Red is the highest arc of the rainbow
Red is the first color you lose sight of at twilight
The longest wavelength of light is red
Feng shui recommends painting the front door of a home red to invite prosperity to the residents
Bees can't see the color red, but they can see all other bright colors, so red flowers are usually pollinated by birds, butterflies, bats and wind rather than bees
Red has more personal associations than any other color. Recognized as a stimulant, red is inherently exciting and the amount of red is directly related to the level of energy perceived. Red draws attention and a keen use of red as an accent can immediately focus attention on a particular element.
The above is quoted directly from Digital Synopsis. Anger, passion, love and life are a few more ideas from Team TATTLAS.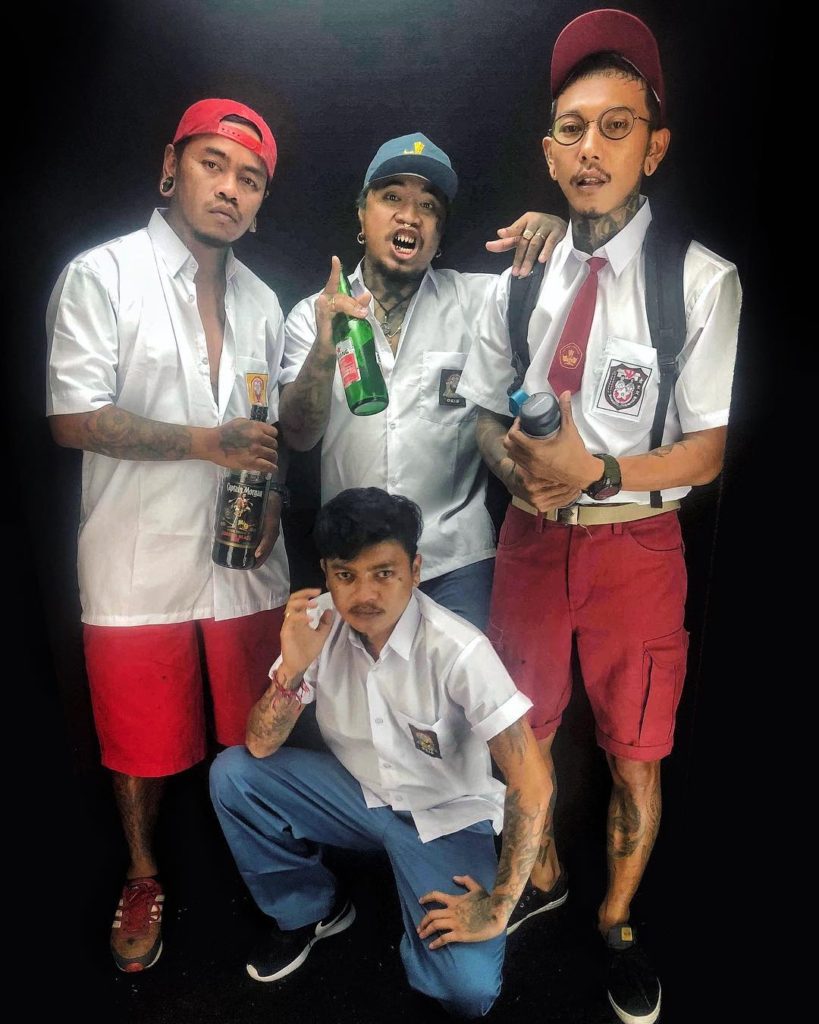 Connotations of Red in Indonesia
It seems to be the country's favorite color…
The Indonesian flag is two colors; red on top and white on the bottom. What does it mean? To keep things simple and authentic, we're satisfied by these two responses from our Indonesian staff.